Whenever I think back to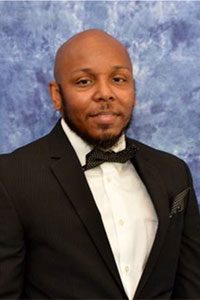 my childhood I am blessed by the memories of times I was in church with my parents. My dad's mom always required that my dad take us to church. As early as eight or nine years old I remember being in the choir with my cousins. I was blessed to gain more Christian teaching from a man by the name of Rev. Denis Smith, who was the Youth Pastor at Lord of Host MBC in Chicago, IL encouraged me by giving me John 3:16. God had a plan for me as early as 12 years old God would send other kids to ask me for advise. I now know that it was God who gave me a fire for Him and His Word. But it wasn't until I moved to Bolingbrook and I asked the question, who is God?  And what is His plan is for me? Eventually He revealed Himself to me. In 2005 my family was invited to Easter Service at Alpha M.B. Church. December 25, 2005 during a night watch service in Milwaukee I asked God into my heart and received The Holy Spirit. Shortly after, God called me to preach. For years I ran from His call trying to understand it. God allowed me to preach at Statesville Correctional Center and serve as a Youth Leader at Alpha. I attended Liberty University where I received my Master's in Leadership with a Minor in Counseling. Finally, in 2015 I stopped running and God presented me with an opportunity to confirm the calling that He placed on my life. On Easter Sunday 2016, I gave my first trial sermon and have been on fire since!
I am grateful for men like Pastor Kirk, who believed in me enough to give me a chance to work with him in youth ministry and now in the pulpit. The men of Alpha M.B. Church are forever in my heart. I am truly blessed to serve and grow spiritually under such God fearing men such as Anthony Taylor, Deacon Steven Beckley, Min. Derrick Carter, Min. James Harvey, Min. Patton, Rev. Denis Smith (DECEASED), Pastor Aaron Richardson, Pastor W. Rorer, and Pastor Bruce Kirk.
My beautiful wife Shelice Crowley has been with me for over 25 years. We have four children: Javonta, Jaqauwn, Jayla, and Jorryn. Favorite scripture: Jesus said, "In my Father's house are many mansions: if it were not so, I would have told you. I go to prepare a place for you."(John 14:2)
Sincerely,
Minister Robert Crowley